Bonjour and welcome to the Royal Salon! It's Reine de Fleur and I am here to present the first chapter of my new project, "ROYAL SALON". As already mentioned some days ago, it is a relatively new project since the idea was born about a year ago, but nothing has ever been published about it simply because I wanted to have as many details as possible before presenting it to all of you.
I sincerely hope that you will find it interesting. As first edition, there will certainly be many things to improve in the future, especially with regard to videos, so if you want to give advice, advance criticism (please, only if they are constructive and not offensive), or for anything else, feel free to contact me at the site's main email
Every content here is in Italian, except for some videos in American that my dear friend Count Von Kit wanted to do exclusively for this project of mine. All the rest of what you find here will be promptly translated into English and published on a proper page of this site because I care about the fact that even foreign followers can read and know what is being talked about. I also take this opportunity to reiterate the fact of the collaboration. Even if ROYAL SALON is solely my project, you are all invited to send your videos, a fanarts, a report, a short story, a review, or a short article to see it then published in the next exit. You are also strongly invited to feel free to translate any content you find here, as long as you give the project maternity to me, put the site link and credits. I would be very happy to see it translated into other languages somewhere. If I could I would do it myself, but unfortunately I don't know all the languages of the world, so I leave this pleasure to those of good will who will want to contribute in this way to make this project run, a project that I dearly take care of.
It is time for me to wish you a pleasant reading and a good vision!
May the Roses blow on your Path,
Reine de Fleur
---
Section dedicated to the summary of KAMIJO's activities
Although this first release is entitled "Summer Edition", in this first part I want to make an excursus of the main activities of KAMIJO, live and not, starting from the beginning of the current year. It is made to brush up on what he did after the strenuous 2018 that saw him engaged in many tours to tell the concept of "Sang". The other reason is that 2019 is the five-year release of "Symphony of the Vampire" (March 2014), which officially started his solo career, and "Heart" (September 2014), first full lenght. Therefore, important events could not be overlooked to celebrate such important dates in KAMIJO's solo career.
The aim is also to always have a summary of what KAMIJO does about live and studio activity. So besides the two latest tours, you will also find the latest releases and what he did in a period of work that was not too intense, but very interesting.
In future editions of this project I will try to do this journey backwards also with the past years, as an archive. It is something I had already done last year in the five-year celebratory fanbook (remember the chibiMIJO represented in the forms of the Chinese horoscope?; P).
[Fanclub Event] Dinner Party Vol.4 – Jōsho no Kikun – 20 January 2019
Announced in November 2018, the Dinner Party Vol.4 – Jōsho no Kikun, reserved only for members of the fanclub, the Rose Croix, was held at Lockheart castle, famous to Versailles fans for being the MV location of 'Aristocrat's Symphony' and for the photo session of the cover of 'NOBLE'.
MASASHI also participated in the event.
[Tours & Concerts] KAMIJO Live Tour 2019 "Symphony of the Vampire" – From 2 to 27 March 2019
Sixth chapter of the "Sang Project"; with this tour KAMIJO wanted to celebrate five years since the release of the much acclaimed mini album, "Symphony of the Vampire". A tour that was awaited a lot by fans and satisfying for KAMIJO.
During the Live Tour 2019 "Symphony of the Vampire", there was a very special event, I'm talking about the general rehearsals at the Tokyo Kinema Club, a participation that was only possible with the purchase of the DVD "Sang – Live at Zepp DiverCity Tokyo "at Tower Records Shibuya and Tower Records Shinjuku.
The most awaited event of this tour was the grand finale: Dream Live "Symphony of the Vampire" KAMIJO with Orchestra, held on March 27th 2019 at the EX THEATER ROPPONGI, a totally spectacular live thanks to the presence of a real orchestra who accompanied the Rock notes of KAMIJO's music.
This special live was also the last one for Anzi as sessioner. We thank him for his great performances during all this long time with KAMIJO!
Special tour event:
General rehearsals at the Tokyo Kinema Club – 3 of March 2019 [HERE]
[Collaboration] KAMIJO x melcafe 2019
Second collaboration from 8 to 24 March with the maidcafe, melcafe. After the success of the last year, the experience was repeated this year and offered a captivating menu which somehow represents the world of KAMIJO. "Breath of a Rose", "Blue Hope Diamond ","Stellar Light"are very evocative and inviting names as well, considering the way the dishes are aesthetically presented.
A detail for collectors: this year, like the previous one, there were collectible gadgets and goods, such as four mugs, a thermos and a mask with a pointed canine grin, very kawaii and a must have!
Info on the collaboration: [ANNOUNCEMENT] [MENU ETC]
[Recordings] Dream Live "Symphony of the Vampire" KAMIJO with Orchestra – 17 July 2019
Produced on DVD, Bluray and CD, this product saw the light of the market on July 17, 2019. Except the audio CD that can considered a standard version, the other two limited ones differ in contents. HERE you can see what they are, take a look at the tracklist (very interesting) and, why not, order your favorite one in case you haven't done it yet!
---
Section dedicated to reviews, both on video and text
[Unboxing] Royal Salon Summer Edition Part I – Dream Live Unboxing by Count Von Kit
This video shows the three versions of Dream Live "Symphony of the Vampire" KAMIJO with Orchestra on DVD, Bluray and CD.
A note to the readers: the poster, specifies Count von Kit, is not shown out of respect for both KAMIJO and CD Japan, which have never made the bonus public.
[Video Review] Royal Salon Summer Edition Part I – Dream Live DVD review by Count Von Kit
Count von Kit shows us the DVD packaging, revealing the fact that it is a bit poor in content, but interesting because there are photos of all the orchestra musicians who participated in the performance. It sounds to be useful for those who are also interested in classical music. As for the actual product content, Count tells us that it is a pleasant live to watch, but sometimes he had the feeling to see KAMIJO being a little tired, but still very happy and satisfied.
A live that is pleasant to watch, but not suggested to beginners, it is recommended to them to buy KAMIJO's studio works.
[Video Review] Royal Salon Summer Edition Part I – Dream Live Review CD by Count Von Kit
Count von Kit also wanted to review the audio CD because in his opinion it is a good product to listen to. The quality of the sound and the recording are really good and they offer an abundant hour of good live music to listen to without looking at it. He advises here as well the new entries against buying them, but towards the studio releases.
---

Section where to find one or more generic articles, but somehow related to the music and the concepts of KAMIJO stories
♦ AYAMI KOJIMA ♦
Ayami Kojima is an artist who deals with graphics and mainly illustrations for gothic novels or mystery. However she is well known abroad for the wonderful works of the famous and historic videogame Castlevania, Akuma jō Dracula (uma 魔 城 ド ラ キ ュ ラ Akuma jō Dorakyura, literally "Dracula of the Devil's castle"). Her drawings have been around the world and are very appreciated for the unique and unmistakable style, so rich in details, nuances and plays of shadows and lights and elements which always symbolize something. A detail that always comes to my mind when I think of her illustrations is the white lily, a symbol of purity that, perhaps, Ayami does not put at random.
In all her illustrations, Ayami Kojima has always loved to represent wicked characters, it has always been her passion since the beginning with the saga. Strangely, however, she herself states that despite her passion for the wicked, one of the characters she loved most to create and draw was Leon Bemont, the hero of the Castlevania chapter – Lament of Innocence; giving life to Leon Belmont was a pleasant challenge for her.
Kojima is self-taught, that element gives an extra value to her works, looking at them one always has the feeling of immersing oneself in a world rich in wonders and at the same time full of dangers, but surely what stands out to any observer's look, it is the aesthetics and beauty of his creations.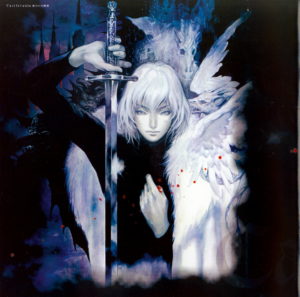 Kojima's trait is unmistakable especially when you look at the faces, the characters' eyes which all differ each others, it seems to always be on the point of wanting to say something only with the magnetism of their gaze. Whether it's a hunter, a loved one to be saved or a vampire, an angel or whatever, all of them have a depth in the look that always strikes, with these lines so elongated as if she wants to give a hint of Asian traits and at the same time resume the width of the typically western eye. And yet, those beautiful and well-made eyes convey a certain sense of melancholy that are typical of the statues in and on mausoleums or in some family tombs.
Speaking of statues, some time ago I looked at an action figure of the Count: although I admired its aesthetic beauty, the details all done very well, it remains an action figure. I don't know exactly why, but in a certain way I had the feeling that Kojima's works lose something when they are reproduced in another ways, in this case in statues. It is like something going away and that was the very soul of it that the statue represents. Every character always inspires me something, the same goes for every face she represents, there is always presence of life in the eyes I was talking about before.
To all intents and purposes, Ayami Kojima's style can be defined as Gothic art, both for the features I mentioned above, and for the figures it represents: vampires, angels, demons and in general human creatures and not who transmit a certain pathos and decadence. To become more aware of the beauty of her works, it would be enough to look at the artbook that contains true aesthetic and visual marvel: Santa Lilio Sangre.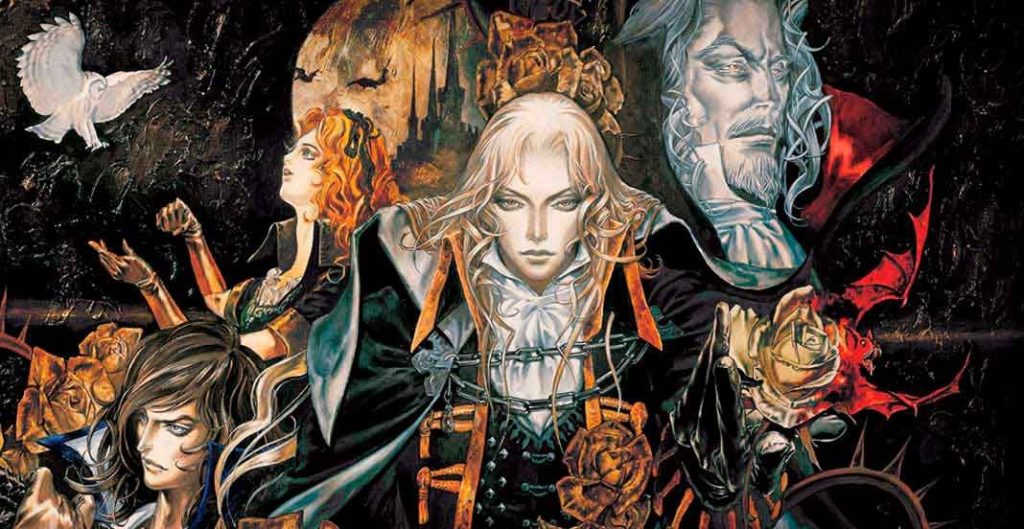 As a lover of both the Castlevania saga and Kojima's illustrations, I am really curious and eager to see what she will create for the trilogy announced by KAMIJO. I can safely say that I see a little dream of mine, that someone extremely good, gifted and capable of representing the gothic genre will deal with the vampire world created by KAMIJO. He is one of my favorite artists for so many reasons, knowing that his next three works will be entrusted to a great illustrator like Ayami Kojima excites me very much.
Surely I will talk about her again in the future, it will be when I have the artwork of KAMIJO's next singles under my eyes. Everything I have written here wants to be just an introduction to present a little of what the world of Kojima is to those who did not know her until the time of the news of the upcoming trilogy from KAMIJO. I seriously doubt she is unknown to many of KAMIJO's fans, since Castlevania is a very old game, it is composed of so many chapters that it is practically impossible not to know at least one and never having played it!
Among other things, I strongly suggest Castlevania to the fans of the gothic genre, because in addition to the really suggestive setting, especially in the most recent releases, the music is always a sweet and pleasant accompaniment to your / my hours of play.
Official website: Ayami Kojima
---

---
© Royal Salon is a project conceived and created by Reine de Fleur specifically for Alla Corte di KAMIJO. All texts belong to Reine de Fleur who holds the copyright and the credits. Withdrawing and reporting elsewhere without a link to the aforementioned site and credits is plagiarism.