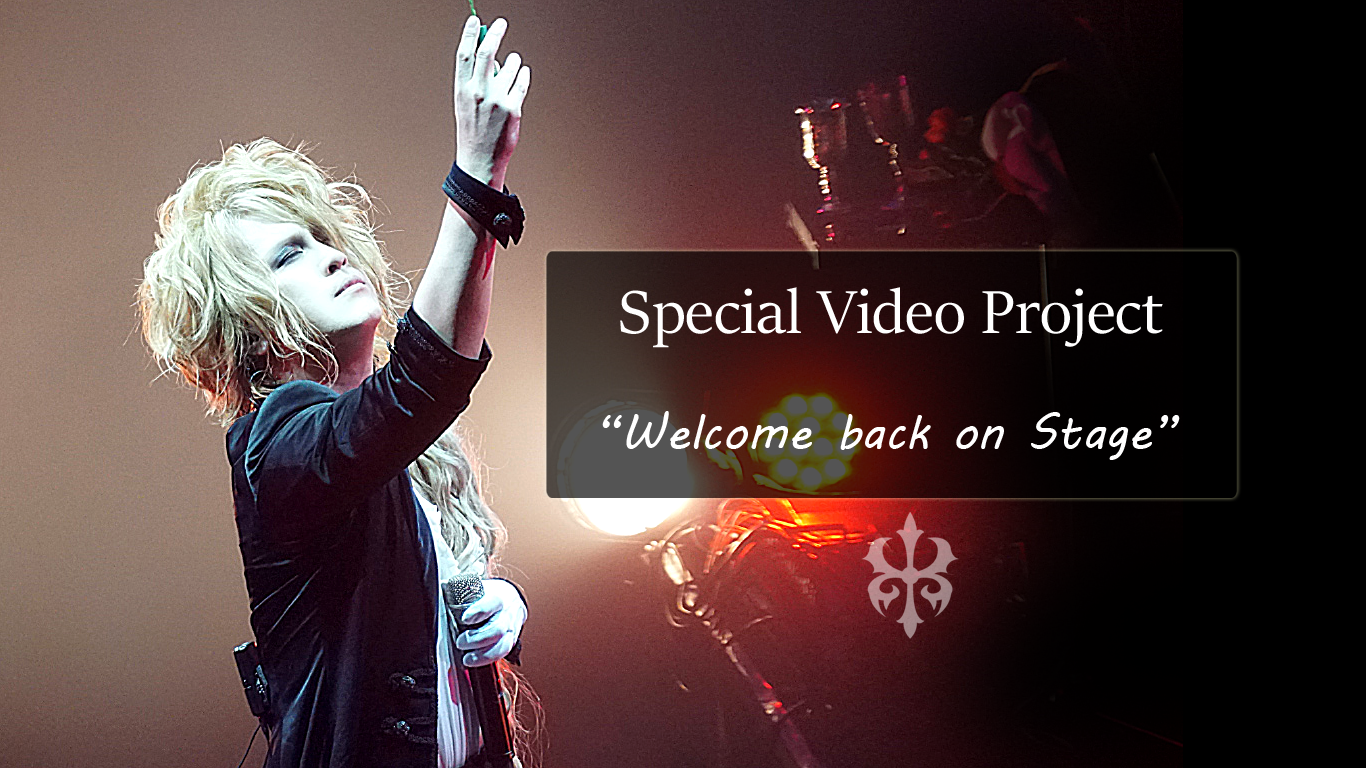 [ITALIANO]
L'evento che vedrà KAMIJO di nuovo sul palco dopo un anno e nove mesi di fermo si sta avvicinando, e vogliamo celebrarlo con la creazione di un video, dal titolo 'Welcome back on Stage KAMIJO san'.
Il live di riferimento è 'Behind the Mask' che si terrà precisamente il 19 Luglio, giorno del suo compleanno, presso lo Zepp DiverCity Tokyo.
Regaliamo a KAMIJO un video che raccolga i nostri messaggi di congratulazioni per il suo sicuramente maestoso ritorno sul palco, e partecipare sarà molto semplice.
Pubblicheremo il video completo su questo sito, su tutti i nostri social accompagnato dalla hashtag #welcome_back_on_stage_KAMIJOsan, e in fine lo invieremo anche al fanclub internazionale.
♦ DEADLINE: 10 Luglio entro le 24:00, massimo il giorno dopo.
♦ DOVE INVIARE
Mandate il vostro video o la vostra foto a fanproject@allacortedikamijo.it
Titolo della mail: 'welcomeback on stage'
♦ COME PARTECIPARE
√ Inviate un vostro video dove dite semplicemente 'bentornato sul palco KAMIJO san' nella vostra lingua, in questo caso in italiano. Potete mostrare il volto oppure no se non lo volete, potete includere un qualsiasi pezzo della vostra collezione (ufficiale e non pirata) come ad esempio un CD, indossando la vostra maglietta preferita, sventolando un towel o una roselight, vestendo un suo cosplay o altro.
√ In alternativa al video potete inviare una foto vostra o una qualsiasi, una fanart o altro aggiungendo la dicitura 'bentornato sul palco KAMIJO san' nella vostra lingua madre; la scritta deve essere ben leggibile. Se nella vostra foto ci sono altre persone dovete avere il loro consenso per la pubblicazioni altrimenti oscurate i volti.
√ Potete inviare anche un video o una foto di augurio per il compleanno, purchè separato da quello del tema principale. Tutti i messaggi per il compleanno verranno aggiunti alla fine del video.
E' importante inviare il video come allegato alla mail, aggiungendo nel testo anche il vostro nome o nick e il paese di provenienza.
♦ IMPORTANTE
Il video deve essere in orizzontale e non in verticale, le foto vanno bene in un modo o nell'altro;
Le foto devono essere in JPEG o PNG e di buona qualità, no file in PDF;
No video in semi nudo o nudo integrale, pose sexy e simili;
Nella mail aggiungete il vostro nome/nick e il paese di provenienza;
No foto o fanart altrui
♥Vi aspettiamo in tanti, siateci♥
---
ENGLISH
The event that will see KAMIJO back on stage after a year and nine months of stoppage is approaching, and we want to celebrate it with the creation of a video, entitled 'Welcome back on Stage KAMIJO san'.
The reference live is 'Behind the Mask' which will be held precisely on July 19th, the day of his birthday, at the Zepp DiverCity Tokyo.
We give KAMIJO a video that collects our congratulatory messages on his surely majestic return to the stage, and participating will be very simple.
The complete video will be published on this site, on all our social networks accompanied by the hashtag #welcome_back_on_stage_KAMIJOsan, and we will also send it to the international fanclub.
DEADLINE: 10th July by 24:00, at least the day after.
WHERE TO SEND
Send your video or photo to fanproject@allacortedikamijo.it
Email title: 'welcomeback on stage'
HOW TO PARTICIPATE
√ Send your video where you simply say 'welcome back to the stage KAMIJO san' in your language, english, italian, german, french etc. You can show your face or not if you don't want it. You can include any piece of your collection (official and non-pirate) such as a CD, wearing your favorite t-shirt, waving a towel or a roselight, dressing up a cosplay or other .
√ As an alternative to the video you can send a photo of yourself or any other kind, a fanart or other. In this case you are asked to add the words 'welcome back to the stage KAMIJO san' in your mother tongue and the writing must be clearly legible. If in your photo there are other people you must have their consent for the publication, otherwise obscure their faces.
√ You can also send a video or a photo of birthday wishes, as long as it is separate from that of the main theme. All birthday messages will be added to the end of the video.
It is important to send the video as an attachment to the email, adding your name or nick and the country of origin in the text.
IMPORTANT
*The video must be horizontally and not vertically, photos are fine in one way or another;
*Photos must be in JPEG or PNG and in good quality, not PDF files;
*No semi nude or full nude videos, sexy poses and similar;
*In the email add your name/nick and the country of origin;
*No other people's photos or fanarts
We are waiting for you in many, be there
About Author