"SYMBOL OF THE DRAGON", nuovo Singolo
"Symbol of the Dragon", secondo singolo della trilogia "PERSONA", in uscita il 26 Febbraio 2020
Annunciata l'uscita del secondo capitolo della trilogia, si intitola "Symbol of the Dragon" e vedrà la luce il 26 Febbraio del prossimo anno!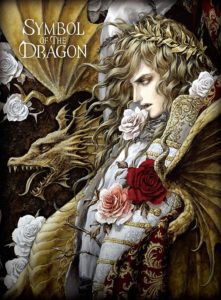 Come già si sa, l'artwork è affidato ancora alla talentuosa Ayami Kojima che questa volta ci regala una splendida rappresentazione di un Napoleone Bonaparte un po' particolare.
Il singolo contiene due nouve canzoni mai suonate prima, "Symbol of the Dragon" e "Crimson Family" che dà anche il nome al prossimo tour nazionale in Giappone. Come terzo brano troviamo Yamiyo no Lion, riarrangiato con suoni orchestrali per adattarlo al nuovo concept stilistico; un brano importante e sempre presente nelle esibizioni live di KAMIJO. Di questi tre brani vi è anche la versione strumentale, ma solo nell'edizione limitata.
Anche in quest'opera è presente uno scriptbook composto da oltre 10000 caratteri interamente scritto da KAMIJO stesso, si tratta del sequel di "PERSONA GRATA" presente in "TEMPLE -Blood sucking for praying-". Anche il packaging seguirà la stessa linea del precedente singolo, con copertina rigida, poster e cartolina con lo stesso tema.
E' possibile già preordinare la propria copia presso il nostro affiliato CDJapan, cliccando sui link qui appresso vi assicurerete la vostra!
– CD + BOOK in edizione limitata, un mini-poster e una cartolina in omaggio.
Tracklist
1- "Symbol of The Dragon"
2- "CRIMSON FAMILY"
3- 闇夜のライオン (Yamiyo no Lion)
4- "Symbol of The Dragon" [strumentale]
5.CRIMSON FAMILY [Strumentale]
6- 闇夜のライオン (Yamiyo no Lion) [Strumentale]
Prezzo: 3500 Yen
KAMIJO
-Versione CD standard
Tracklist
1- "Symbol of The Dragon"
2- "CRIMSON FAMILY"
3- 闇夜のライオン (Yamiyo no Lion)
Prezzo: 1500 Yen
Questo singolo fa parte oltre che della trilogia citata poco sopra, anche del progetto KAMIJO 25th Anniversary Project, notizie e annunci li trovate sul nostro articolo
QUI
.
Articolo: Alla Corte di KAMIJO