KAMIJOxmelcafe, aggiunto menù speciale per celebrare la seconda collaborazione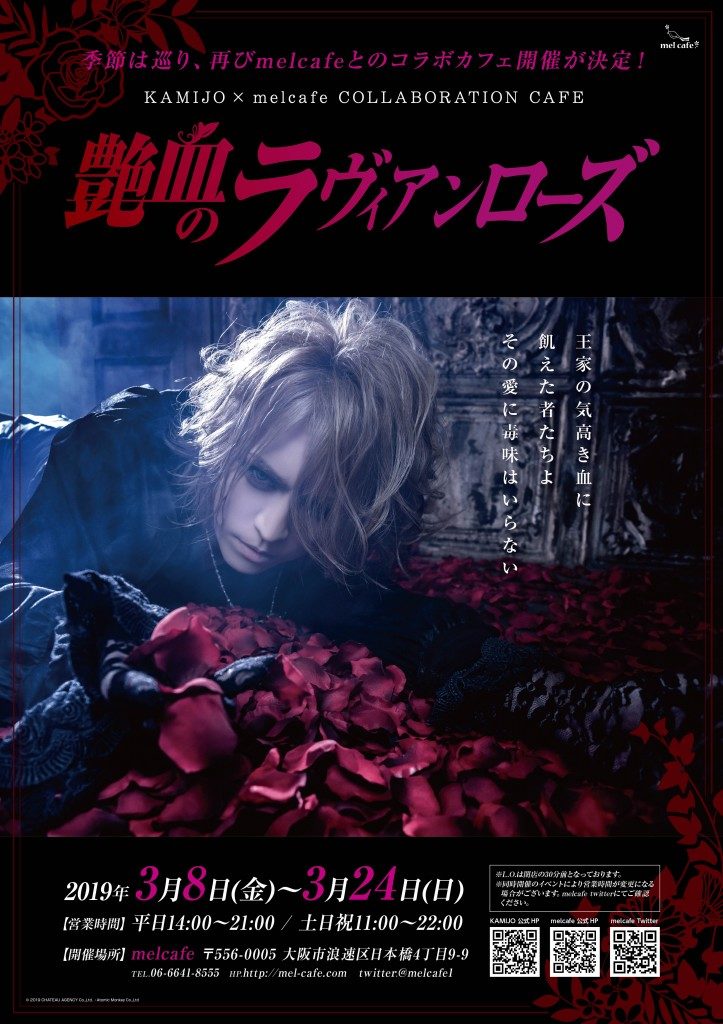 Settimana scorsa è stata resa nota l'aggiunta del menù speciale per celebrare la seconda collaborazione tra KAMIJO e il melcafe. Come già anticipato nello scorso articolo, l'evento avrà inizio l'8 Marzo e terminerà il 24 dello stesso mese, giorno in cui si chiuderà anche il tour nazionale Sang Project Act V Live Tour 2019 "Symphony of the Vampire", proprio a Osaka.
KAMIJO X melcafe "Tsuya chi no La Vie en Rose" questa volta prevede due menù, il primo servito su richiesta dall'8 al 17 Marzo, e il secondo dal 18 al 24. Un menù accattivante e che rappresenta in qualche modo quello che è il mondo di KAMIJO: "Breath of a Rose", "Blue Hope Diamond", "Stellar Light" sono nomi molto evocativi e anche invitanti, visto come si presentano esteticamente.
Per ogni Collaboration Menù servito, verrà dato al cliente un sottobicchiere a caso tra i tre che sono stati preparati apposta per il caso. Sarà inoltre possibile gustare i menù con tranquillità tutte le volte che si vuole in un ambiente inusuale.
L'indirizzo per raggiungere il Melcafe a Osaka
MELCAFE
4 Chome-9-9 Nipponbashi,
Naniwa-ku, Ōsaka-shi, Ōsaka-fu 556-0005
Dal Lunedì al Venerdì, 14:00-21:00
Sabato, Domenica e festivi: 11:00-22:00
Orari che potrebbero variare in base agli eventi in corso.
UPDATE:
In data 1 Marzo sono stati resi noti i goods che saranno in vendita presso il Melcafe, creati appositamente per commemorare questa seconda collaborazione.
Come si può vedere dall'immagine qui appresso, sarà possibile acquistare una mascherina con un ghigno vampiresco che dice "Bonjour", un thermos o portabevande abbellito una fantasia di lineart di rose bianche su sfondo nero. E come l'anno precedente, ecco il pezzo forte di questa collezione: non una ma bensì quattro mug… Da prendere tutte!