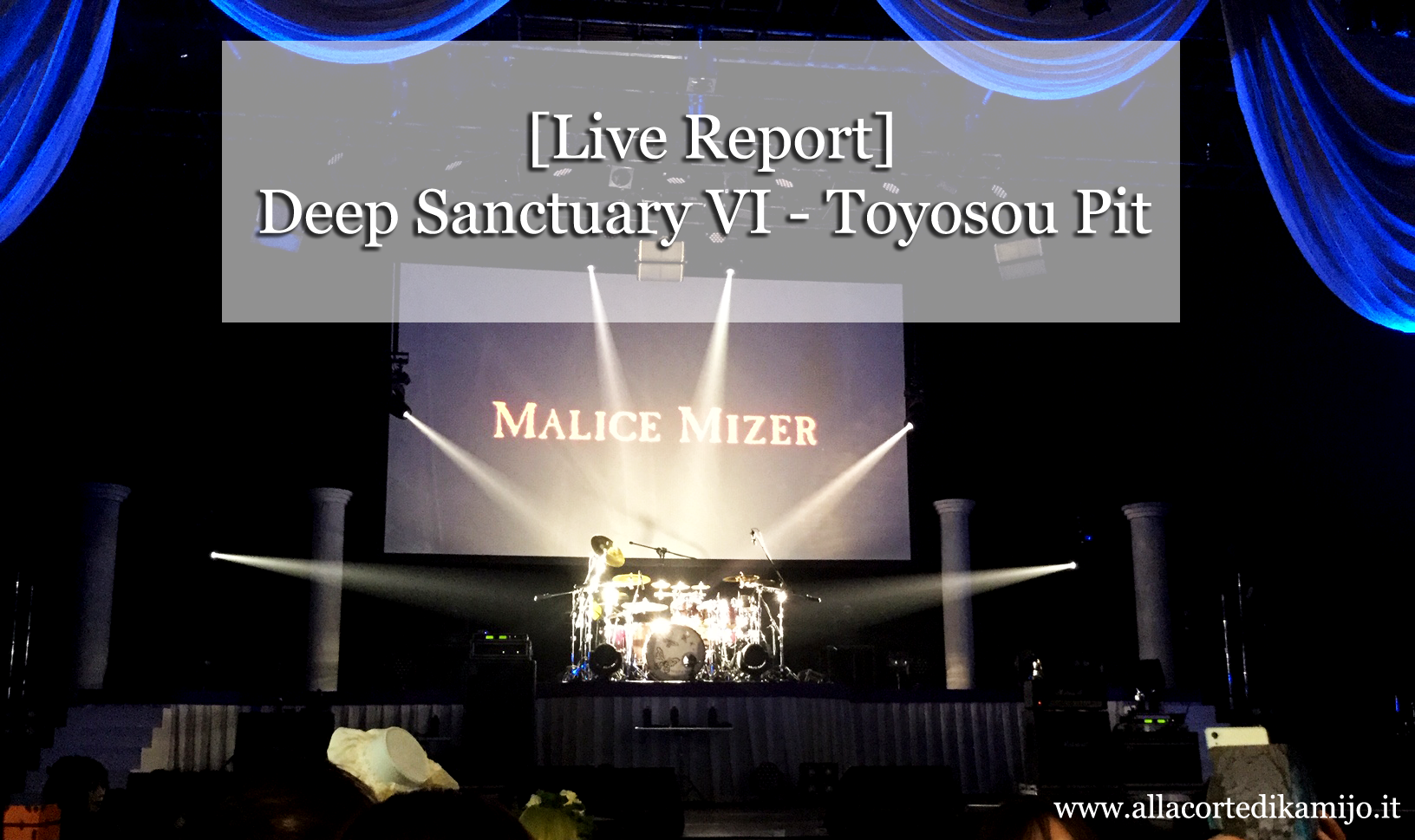 DSVI – Deep Sanctuary VI – Malice Mizer 25th Anniversary
I was among the lucky people who could attend DSVI, because my friend ordered two Premium tickets and was drawn from Wunderwelt's ruffle. Wunderwelt is a website which sells used and new lolita items and lately has been used to also sell concert tickets to overseas. This avoids the "Japanese credit card" obstacle, even though the transaction might not always be smooth due to payment issues, technical disservices and a long list of rules you have to keep in mind while making your order. Some premium seats and regular seats were reserved to oversea, but only in limited amount. I didn't win tickets but my friend did, so we paid them as soon as Wunderwelt gave her the news. The ticket was 240 euro each, and it granted us seats in the first rows and special gift.
At the time when we bought the tickets Mana had announced only the Saturday show. As many people could not get the tickets and complained about it, Mana decided to announce a second date for DSVI on September 9th. Both dates were sold out and I guess the long list of guests and KAMIJO's presence can be one of the reasons.
We got to the venue pretty early because the merchandising was on sale starting from 2 pm and we didn't want to miss the chance to buy some of the items we saw in Mana's tweet that very morning.
The venue was crowded with cosplayers and Moitié lolitas, all others wearing black. Nice feeling. The weather was sunny and very hot, no longer any sign of the Jebi typhoon. I could not help but thinking that Malice Mizer would have an audience if they came back.
Premium ticket holders had an early entry scheduled, so we had plenty of time to take pictures of the flowers compositions, get a drink and buy some more items, as there was another merchandising desk inside. Oversea fans organized a flower stand for Malice Mizer. The note of the flower stand read all the countries which contributed to the stand and it was moving to see a bunch of them all together: Austria, Canada, Chile, France, Germany, Italy, Japan, Korea, Mexico, UK and United States.
Questo slideshow richiede JavaScript.
It was beautiful. White roses in a hearth shape with colored roses in the middle, one for each of the members playing tonight and a butterfly symbolizing Kami (Malice Mizer's drummer who died in 1999). He loved butterflies and had three butterfly tatoos, besides collecting objects portraying butterflies. Those who have been around since Lareine, know that Lareine's symbol was a rose and a butterfly. When I noticed the flower stand I could not help but wonder if even this comes from Malice Mizer's influence on KAMIJO. Kami had joined Malice Mizer in 1993 and KAMIJO was their roadie in 1994 just before founding Laliene, later Lareine. I also have my personal hopes for the reason behind this name.
Our seats turned out to be very good seats (row 6 seat 23): in the center, close to the stage but not to close to limit the "full picture" view. The music played during the wait in the concert hall was the soundtrack of Deep Red.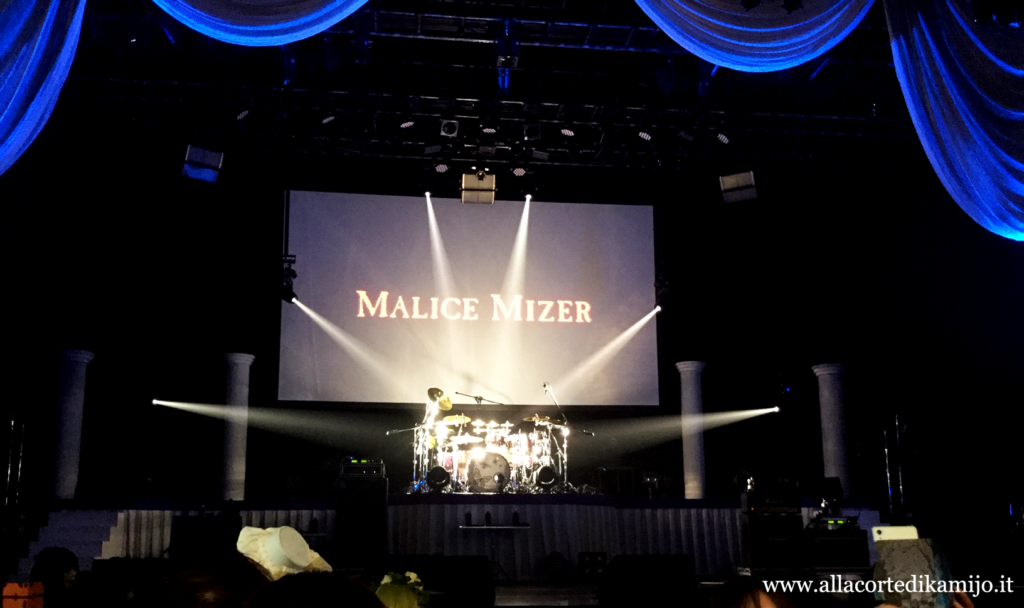 The show started with ZIZ performance, Kozi's band since 2013 (Kozi is one of the previous guitarists from Malice Mizer). We could not avoid noticing the drummer Chargeeeeee. His energy was contagious and helped relieved the audience from the tension. Set list: Denji Otokotachi, AWaWA, Glitter Waver, Colors, GI To DA, Seraph (Malice Mizer).
The lights went off and there was a pause accompanied by Prodigy's Smack my Bitch Up, which Mana always puts on before Moi Dix Mois concerts. They changed the instruments and it was now the turn of Moi Dix Mois (Mana's band since 2002). I was very happy to get my chance for a bit of familiar gothic-symphonic-industrial metal to accompany my reunion with "the queen", already onstage but still disguised. Set list: Metaphysical (MdM), Front et Baiser (MdM), Mayonaka ni kaw ashita yakusoku (Malice Mizer), Gardenia (Malice Mizer)
The lights went on again and I just knew the wait was almost over. Still not sure Mana would wear feminine clothes, my heart was rushing, thinking of the countless times I envied people who could actually attend Malice Mizer's lives. I was also worried and excited for KAMIJO. Malice Mizer had been his visual first impact and training and his romantic influence, he must have been dreaming about being their vocalist, at least once. I was sure this would be a turning point for him and I was hoping for a smooth performance and a memorable moment in his career. I have been following KAMIJO since 2004, I saw him evolving and grow and I wanted to be there for him in this crucial moment. The music in the room was now some sort of church music.
The lights went off and the curtain opened to reveal Malice Mizer as I remembered them, with no compromises. The costumes, the stage, the attitude. Mana was cross dressing! As I imagined, he looked like a Queen. But Kozi, Yuki and Mana were not alone onstage. A drummer named Sakura, looking exactly like Kami, was with them. I later learned he was Kami's drummer teacher. The resemblance was impressive. Above the stage we all could see Kami's real drums, which Mana had managed to find and move to the Toyosu Pit for the event. The only missing part were the vocalists, but guests vocalists would be soon invited one by one onstage to re-enact Malice Mizer. Set list MM: Saikai no Chi to Bara (song written by Mana for Kami after his death), Kyomu no naka de Yuugi (song where Mana holds a whip and speaks with distorted voice).
Shuji was the first roadie to be called onstage. I know nothing about his roadie experience. For the occasion, he looked like Tetsu. He was lucky enough to get to perform Illuminati, which required interaction with the groups members. Something that was done in the past and is almost gone lately (at least in the bands I follow): fan service. After his performance Kozi interviewed him for a few minutes, but as there was no translator, I can't tell what they said.
Set list: SE de memoire, Kioku to Sora, Illuminati
KAMIJO was the second roadie to be called onstage. He looked like himself, no Malice Mizer costume. Black leather pants, white shirt, long black jacket. He looked very powerful and stood out. As soon as he appeared onstage I screamed "Vive Le Roi!". I decided it was the right time to show loyalty and support. The songs chosen for him reminded his past or current style, mainly referring to France and demanded no interaction with Mana, even though KAMIJO tried to improvise it by walking up to him and touching the strings of his guitar while he was playing. My impressions was that Mana wanted to keep it extremely quiet with him. Even KAMIJO was interviewed by Kozi after his performance and thanks to my Japanese friend Yumiko, I can tell you a part of what was said. Kozi asked KAMIJO about his days as roadie and KAMIJO probably wanted to make Mana laugh, as well as the audience, so he explained how Mana was living in a very comfortable place, while his roadies were asked to live no more than 5 minutes away from his place and this caused them not to find a proper places to stay. So he basically said something like: "Of course you were living in a Castle while you sent your roadies in the stables". Mana had to turn his back to the audience at this point, because he started to laugh pretty badly and couldn't manage to stop. He even tried to face the audience at some point but he had to turn again, as he just couldn't help it. So funny. Thumbs up for our King KAMIJO. Set list: Apres Midi Aru Paris no gogo de, Bel Air
The third roadie was Hitomi. Again, I have no information about his roadie experience. He was dressed in Malice Mizer style. As happened with Shuji, he got to interact with Mana (they danced together) and even fireworks were lit in front of him while singing.
Set list: Zenchou, Madrigal, N.p.s. N.g.s.
After the three roadies finished their performances an Encore was played. Setlist: Unmei No Deai, Au revoir (istrumental only). Unmei no Deai is the song Kami wrote just before dying and Malice Mizer decided to record anyway without words. At this point Malice Mizer left the stage. Offstage old pictures of the band were projected for everyone to see. They were very moving. All the members looked very young, enthusiastic (silly at times), and confident in their future. I've also noticed pictures taken in front of Versailles Castle in France and this remains a big mystery to me!!!
Then roadies were called once again onstage to perform Ma Cherie. Each had to sing in turns a piece of the song. No doubts could arise now about who was the most powerful vocalist in terms of stage presence. I was very proud of KAMIJO. They all were extremely professional, but he was really passionate about his singing. Aseptic perfection does not exist in KAMIJO's world. He feels and wants people to feel. I would not be surprised if people who are phobic about feelings walked away from KAMIJO's style, I am more surprised when I notice feelings-phobic people actually enjoying his art. Maybe it's the only safe way they have to allow themselves experience feelings or even love.
At the end of the song, the audience was caught by surprise by a waterfall of shiny and colored streamers falling from the ceiling. Everyone tried to get as many as possible. At least one for each color (each color represented a member of Malice Mizer).
After this, the roadies and Sakura left the stage. Mana, Kozi and Yuki remained alone onstage. They gathered in the middle of the stage, bowed and hugged to say goodbye to the audience. Kami's drums were shining above them. I could tell Mana was about to cry because he had an hard time keeping his face still.
After they left the stage a voice explained to the audience that they could stay a few more minutes to take pictures of the drums.
When we left not a single streamer was left on the ground.
The special gif turned out to be a black wine glass, a drink stick, a black fabric napkin and a purple soap. Purple was also used as the color for the gift decorations and writings, as purple was Kami's color.
I truly hope a DVD will be released, so that people who could not attend DSVI will get their chance of seeing Malice Mizer and also KAMIJO playing with them. Many overseas asked for this and Mana himself announced that on September 9th there would be official cameras, so there's a real chance this will happen.
Merchandising of the event is still available on CD Japan. I particularly like the pamphlet with the pictures of Malice Mizer members in their new outfits and the Q&A (unfortunately in Japanese only) and the rubber band.
Stay tuned for the upcoming Eternal Twilight report. It will be included in this page as KAMIJO showed up unexpectedly onstage with Mana… and this time no distance was involved.
Live report: BelleMoitié for Alla Corte di KAMIJO
Photos: BelleMoitié, all rights reserved
About Author