Last time KAMIJO had a performance in Europe for his Solo Project it was September 2016, for the Royal Week End. After two years he's back to promote his last album "Sang", out on the 21st of March 2018.
Sang Project Act III – Europe Tour 2018 -Sang- included seven dates: London, Helsinki, Amsterdam, Köln, Munich, Barcelona and Paris. A long journey his fans have been waiting with lot of enthusiasm and devotion.
---
Helsinki was the second stop of the tour for KAMIJO who was accompaigned by Meku and Anzi on guitars, MASASHI on bass and YUKI on drums. All of them looked glad to meet their fans again, and have been spreading this feeling during the whole show. The stage of the venue wasn't big enough for the shows KAMIJO usually holds in Japan. But the catwalks on the two sides of the stage were perfect to let the five men perform a more various show and have closer contact with the audience.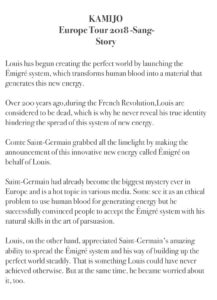 The night started with a meet&greet for all the VIP atte: a few seconds to talk to KAMIJO and say and/or give him a small gift.
Let me say a few words about my M&G with him because I had something on which many people have been working for months with passion and enthusiasm. So I had to accomplish my mission and close the circle. When my turn arrived, I was incredibly fluent in talking to him, so I greeted and held his hand in mine. Soon after I gave what I had for him: my personal gift (a squishy anti stress penguin) and the fanbook on DVD, while I was explaing quickly what it was about. I even took a few seconds to watch the expression on his face while I was telling my words about the fanbook. He incredibly looked like a baby holding a new toy. I was impressed by his happy smile when he thanked me for this. Challenge completed!
When all the VIP attendees had their meeting with KAMIJO, they were said to go in the venue to take their place and wait all the others with regular tickets.
Before the show started, there was a narrator's voice to introduce the story. It was fully focused on Louis living in the contemporary era, the Emigré system and the narrations of the Count Saint-Germain. So the whole show followed the same concept, and perhaps that's why KAMIJO has chosen to perform all songs from "Sang", except Mademoiselle.
Once the lights had been off and the atmosphere was already hot and hyped, the narrator's voice started to introduce the story while KAMIJO and his musicians appeared on the stage one by one. The prelude was clear: to set the venue in the perfect mood to welcome Louis and the beginning of the show, which started with Theme of Sang.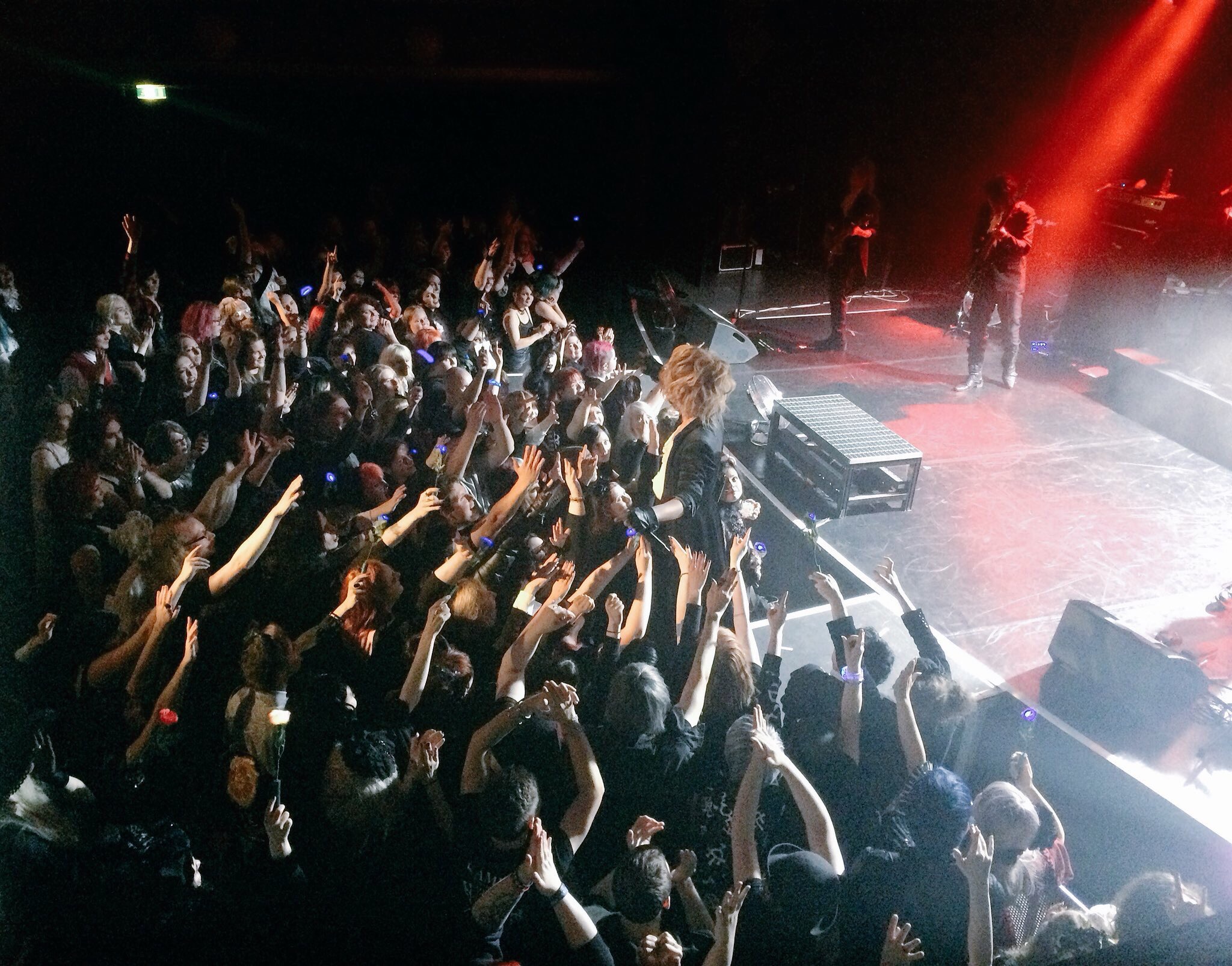 Since the very first minute KAMIJO was spreading energy and excitement in every word he said, in each gesture and pose he had. He has been provoking the crowd, inviting to respond to his reasearch of contact, whatever it was. Going from a catwalk to another one, he was always moving around the stage, dancing, screaming, looking for eyes contact with a sort of aggressive attitude which was simply perfect for the concept he was singing.
Vampire Rock Star and Dying Table were the most acclaimed songs for their 'violent' sound and approach, and KAMIJO knows this very well: he had a lot of fun while was provoking the fans to unleash their energy. Typical KAMIJO's attitude with overseas fans during his live shows: it seems he needs to be fed by the spirit and power of the crowd. And he seems to transform this energy into strenght to go on with the show. A sort of correspondence that makes his show something special and intimate with the fans he deeply loves.
So a lot of entertainment: there were moments for violent music and others for poetry and feelings, for example during Mystery and the three chapters of Sang (I, II and III). There was also time for fun and dance when Moulin Rouge broke the short silence: the crowd was extremely excited and started dancing, while having the same fun as KAMIJO himself and his musicians! Anzi and soon after KAMIJO shaking their hips it's been one of the most funny and memorable moments, such as KAMIJO crawling under MASASHI's leg!
Crazy moments set the hot atmosphere into a far hotter fire when Vampire Rock Star was performed for the second time to close the show. It seemed the show was endless, but KAMIJO and the others left the stage, the lights went off and we all realized the show was ended.
KAMIJO is surely a perfect man of stage, in few seconds he can do everything his body accords him to do: in the same moment he can dance, sing and rouse the public into action. War Machine is the perfect definition for him, I always say this when someone asks me how KAMIJO performs on stage. I often wonder what happens in his head when he is on stage while singing: does he imagine anything concerning his story? Is he strictly concentrated on what he's doing? Does he think on the lyrics, or else? It's a mystery, it's sure that watching KAMIJO in concert is a real experience that lets you different and various feelings inside. And a deep vaccum when everything is ended. A vaccum which  claims to be refilled and recharged again!
Live report: Reine de Fleur for Alla Corte di KAMIJO
Images: KAMIJO Official Twitter , all rights reserved
About Author