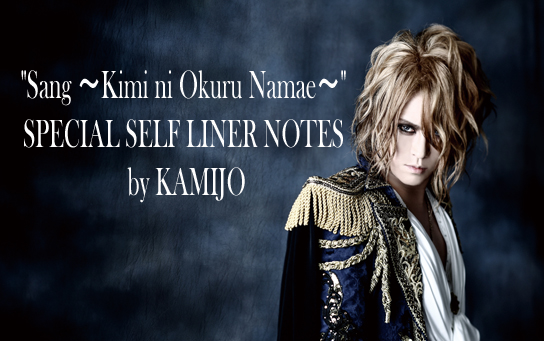 JUNGLE LIFE, Special Self Liner Notes by KAMIJO
"Sang 〜君に贈る名前〜" SPECIAL SELF LINER NOTES by KAMIJO
Sang 〜Kimi ni Okuru Namae〜
Le parole di questa canzone esprimono i sentimenti per le persone che sono morte accidentalmente (per cause non naturali, ndr.). Molte persone muoiono per vari motivi come malattia, incidente, abuso.
Ogni volta che sento una storia così, molte persone possono (o "potrebbero"?, ndr.) stringersi forte al mio petto.
"Perché?"
Solo questo viene in mente.
Anche adesso mentre scrivo, da fuori (si sente, ndr.) una sirena dell'ambulanza.
Qualcuno, forse, sta soffrendo in questo momento.
Siamo sempre di fronte alla morte. Ma sto posando i miei occhi da qualche parte.
Il tempo non tornerà mai indietro. Mi sono ispirato e ho scritto i testi. Cercando la speranza.
KAMIJO
===========================================================================
ENGLISH
"Sang 〜君に贈る名前〜" SPECIAL SELF LINER NOTES by KAMIJO
Sang 〜Kimi ni Okuru Namae〜
The lyrics of this song are about peopley who died unwantedly. Many people die for various reasons such as illness, accident, abuse. Every time I learn such a story, a lot of people may tighten strongly to my chest.
"why?"
This is the only word coming to our mind.
Even now, while I am writing, an ambulance siren from outside.
Perhaps someone is suffering in this moment.
We always face death. But I am getting my eyes somewhere.
Time never comes back. I got inspired and wrote the lyrics. While looking for hope.
KAMIJO
Nota: entrambe le traduzioni, inglese e italiano, sono state fatte da me, consigli su correzioni sono sempre i benvenuti! Per farlo scrivete a info@allacortedikamijo.it oppure mandatemi un messaggio in pagina.