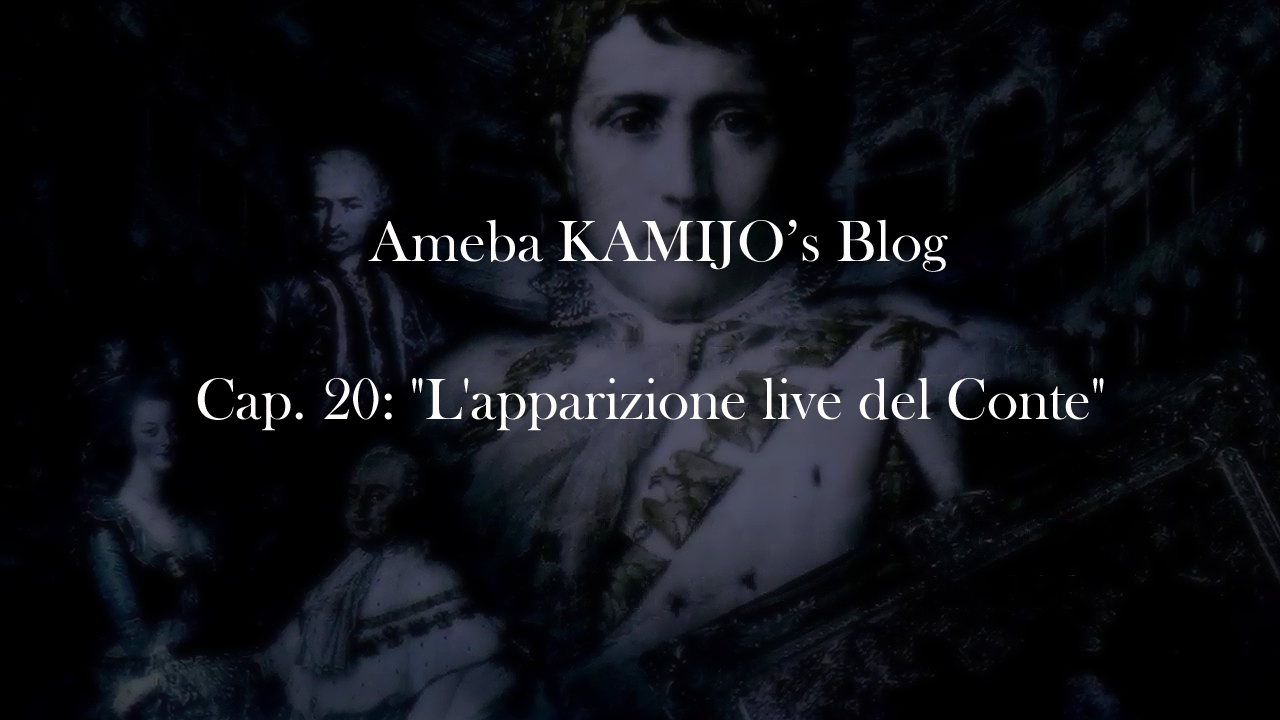 "L'Apparizione del Conte"

Finalmente il Conte fa la sua apparizione dal vivo.
"Andiamo avanti! Il sistema Emigre gode dell'attenzione di tutto il mondo. Io sono il Conte di Saint-Germain, il rappresentante di questo sistema!"
"Conte di Saint-Germain, è un piacere fare la sua conoscenza, vorrei farle molte domande sul sistema Emigre che ha annunciato. Però prima di tutto il resto: è veramente lei quel conte di Saint Germain che ha vissuto per 4.000 anni?"
"Grazie per la domanda, naturalmente. Il sistema Emigre riporterà in vita i morti e lascerà che il corpo produca sangue, e la mia esistenza, a sua volta, ne sta dando dimostrazione."
"Sì, è vero, ma la sua esistenza è considerata il più grande mistero in Europa, perché ha deciso di apparire davanti a noi? Visto che lei è un uomo molto potente, non avrebbe potuto guidare il mondo verso una direzione migliore già molto tempo prima? Sebbene il sistema Emigre sia certamente un sistema per una nuova energia, non sembra essere correlato ai tempi della liberalizzazione dell'elettricità in Giappone."
"Non ho cambiato molto, ho semplicemente collaborato con coloro che si sono mossi per cambiare le ere, come quella medievale e quella moderna."
"Ora, molti media presentano la sua esistenza e l'analizzano sotto diversi aspetti. Prima della Rivoluzione francese, si era parlato di Luigi XVI e di Maria Antonietta e di certi affari nazionali, oltre che di storie occulte. Tra questi, la storia del Codice Francese è stata particolarmente impressionante, quindi chiederò direttamente alla persona che mi sta di fronte. Napoleone Bonaparte, eroe della rivoluzione francese, al momento della spedizione egiziana del 1798, pare abbia stipulato un contratto con qualcuno nella piramide. Da quel momento in poi divenne molto potente e sopraffecee uno dopo l'altro gli stati europei. E' per caso lei la persona del contratto? Gli avete anche dato un certo potere. Inizialmente come soldato, prima di tutto, sarebbe stato in grado di creare un Codice Francese che diventasse il fondamento della democrazia? In realtà, l'avete già fatto, non è vero? "
"Huhuhu ridicolo. (ride) Napoleone è l'eroe, gli ho dato giusto qualche spinta. Ma se così fosse, osereste dire che gli eroi non sono soli. Molti eroi hanno perso la vita per il futuro, mentre voi vivete. A volte, come 'modello'! "
===========================================================================
ENGLISH
The Live Appearance of the Count
And finally the Count appears in the live show.

"Let's go on! The Emigre system gets its attention from all over the world. I am the count of Saint-Germain and I represent this system!"
"Count of Saint-Germain, I'm pleased to know you. I would like to ask you so many questions about the Emigre system you have introduced. This is the one I would like to do before the others: is that really you that count of Saint-Germain who is living since 4000 years?"
"Thank you for the question, obviously. The Emigre system is something that will revive the deads in order to produce blood. My existence is the real proof"
"Yes, it's true, but your existence seems to be one of the biggest mysteries in Europe so far. Why have decided to appear to us today? You are a very powerful man, so why haven't you been leading the world towards better directions in the ancient times? Since the Emigre system is certainly something related to new energy, it doesn't seem to be incidental to the times of the liberalization of electricity in Japan"
"I haven't changed so much. I simply have contributed with the ones who have been done something to change eras, such as the medieval one and the modern one"
"Actually many medias are introducing your existence and are analysing it under different points of views. Before the french revolution, someone used to talk about Louis XVI and Marie-Antoinette and some national issues. And also some occult stories. Amongst them, it's the story of the french code has been highly remarkable, so I am going to ask this question to the one who is in front of me. Napoleon Bonaparte, the hero of the french revolution, seems to have stipulated a contract with someone in the pyramid, during the expedition in Egypt in 1798. Since then, his power increased more and more, and he overwhelmed the european states, one by one. Is that you the one who did the contract with him? It seems you gave him a huge power. Originally as a soldier, firstly, was he able to create a French Code that has become the foundation of the democracy? Actually, you have already done it, isn't it? "
"Hohoho it's ridicolous. (ride) Napoleon is the hero, I just helped him a little. And if this was the case, you would dare to say that heroes are not alone. Many heroes lost their lives for the future as a cause, and you all live. As a 'example, at times! "
Cap. 19, "La Creazione del Mondo ideale"